Grow faster by making your product easy to use

Retain more customers by reducing friction and highlighting value

Lower acquistion costs with personalized onboarding

Drive more pipeline with less spend
Guide your users before they get lost. Create web and mobile app experiences in minutes with our drag-and-drop builder.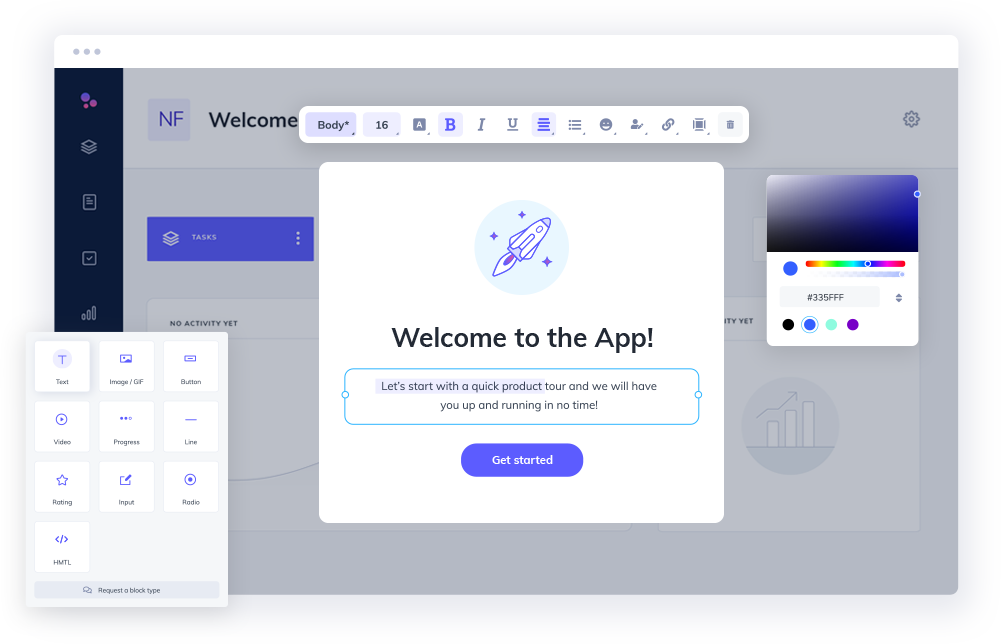 Top product-led brands trust Appcues
Don't let your product get axed.
Find ways to reduce friction and frustration by providing contextual education. Plus point out the value of your product regularly to make renewals an easy yes.
Increasing adoption by over 14% has helped the average Appcues customer retain almost 6% more of their customers.
Stop bad onboarding from costing you customers.
Use tailored and contextual onboarding experiences to get users to their 'aha moment' faster. Save internal resources and lose less deals.
On average, Appcues customers grow activation and adoption by 14% while decreasing customer support costs.
Make your product your most efficient seller.
Let your product close more deals by motivating prospects to buy with in-app experiences. Plus focus sales resources on warm leads who already see value.
The average Appcues customer is able to lower their customer acquisition costs (CAC) by almost 8%.
"In the end, investing in Appcues was a drop in the bucket. At this point, it has probably saved us months of engineering time."
Peter Clark
Prior Director of Product Growth
"Appcues Checklists has been a game-changer for us. We never thought that we could 2X our free trial conversion with such minimal effort."
Ezra Sandzer-Bell
Customer Success Engineer
Right now, your product is your most valuable growth lever.
Lower customer acquisition costs (CAC)
Guiding users to value quickly improves activation and free-to-paid conversion rates. The faster you can show value and make an impact for a propsect, the more likely they are to buy.
Increase customer lifetime value (LTV)
Making your product easy to use decreases churn and helps boost expansion. Plus, targeted in-app nudges can motivate champions to expand, which can help offset churn and improve gross margin.
Become more efficient as a business
Personalize your message at scale without taking up precious engineering resources. Do more with less by allowing your team to focus on the highest impact work and automating the rest.